What is Sky Kids?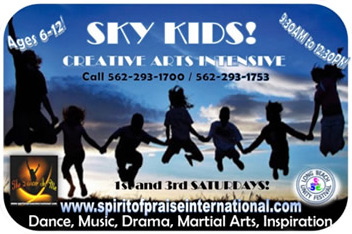 LBUF SKY KIDS CREATIVE ARTS INTENSIVE is in residence at 8 sites across Long Beach, CA. Operating three days per week (TUES-THU), at each of the following locations: Northpointe Community Center (N.LB), Stephens Middle School (W.LB), and in six (6) LBUSD elementary schools including Starr King, Grant, Herrera, Lafayette, Edison, and Burbank Elementary Schools in collaboration with the LB Parks, Recreation, & Marine's WRAP after-school program. The program features professional dance training, children's theater, instrumentation, vocals, production, and creative writing for over 200 kids ages 6-15 year-round. The program targets at-risk children from diverse, multi-cultural, and under served communities.
Through Sky Kids, children are reached at an earlier age with quality, arts education and technical training that builds momentum & passion for the Arts, and assists in providing opportunities/resources to low-income families with gifted children.
The Results: Children and Youth are disciplined, developed, and equipped at an early age to embrace performing arts as a healthy means of creative self-expression, physical/spiritual well-being, and preparation for college-level Performing and Visual Arts majors.
Sky Kids is designed to build self-esteem, awareness, discipline, and enthusiasm for the Arts with a holistic approach that unites, heals, and inspires each child to success. Sky Kids is a joint collaborative effort between The Long Beach Unity Festival Inc., Spirit of Praise Sacred Artistry International, and The Dancer in Me Training Institute.
SKY KIDS CREATIVE ARTS IN ACTION – DONATION SQUARES
You've taken the first important step by registering for the 2018 Dancer in Me & LB Unity Music & Arts Festival. Now, let's work together to get hundreds of children & youth year-round training & Arts empowerment that transforms lives and heals communities everywhere!
Here's how it works:
TODAY, select one (or more) squares, make the suggested donation, and sign your name on the line. Calculate total donation and cross off the selected donation square. (Cash, check, & credit/debit cards accepted).

Fill in the entire board and you've raised the $100 needed to earn an official Planet Shakers Swag Kit! (Includes one DIM Planet Shakers Jacket, back-pack, and TWO (2) Complimentary 1-Day Passes to the Dancer in Me on Saturday, 3/24 @ CSULB)

Your name/organization will be listed as a Sky Kids Friend on our website, social media page, and verbal recognition during LBUF's main event.
Please make your checks payable to THE LONG BEACH UNITY FESTIVAL. Tax ID: 27-3228712. Mailing address: 3553 Atlantic Ave. B1504 – Long Beach, CA 90807

OR DONATE ONLINE RIGHT NOW! You and/or your organization will still be recognized in our media platforms!
The Long Beach Unity Festival Inc. is a non-profit 501c3 organization and is the fiscal sponsor and producer of Spirit of Praise Sacred Artistry International, The Dancer in Me Training Institute, and The Sky Kids Creative Arts in Action. All donations are tax-deductible. All proceeds go to the services, projects, & initiatives of LBUF.