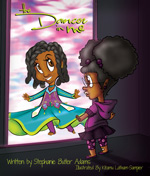 BOOKS BY Rev. Stephanie Butler Adams:
THE DANCER IN ME – Book for Children
Full-Color Illustrations by Kitamu Latham-Sampier)
Publication Date: January 29, 2014
Nell is a bright, spunky little girl. She has big dreams of being a star performer, but awkwardness and fear keep her secret love of dance locked safely inside of her very vivid imagination. One night, with the help of some creative angels and a little encouragement from above, Nell discovers her true potential and purpose through an unexpected gift! Author Stephanie Butler Adams pens a heartwarming story that any child or even young adult can relate to. THE DANCER IN ME is a fun read with unpredictable vocabulary that invites every reader to discover the wonder of their worth.
$22.00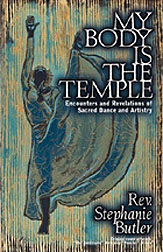 BOOKS BY Rev. Stephanie Butler Adams:
My Body is the Temple:
Encounters and Revelations of Sacred Dance & Artistry
"My Body is The Temple: Encounters and Revelations of Sacred Dance and Artistry" is the manifestation of a divine connection between holiness, Sacred Artistry, and transformation — both of oneself and one's surroundings. It focuses on the sometimes painful, yet eternal benefits afforded to those who dare to keep his or her WHOLE body "Holy Unto the Lord". In doing so, the Holy Spirit freely provides untapped revelation on God's secret weapon — our bodies, in which He uses both evangelistically and prophetically in the Arts, in worship, in dreams, and in natural and supernatural spiritual warfare.
Within the pages of this book on sacred dance and artistry, ministers, pastors, and laypersons alike obtain a global perspective on the powerful impact that anointed, Sacred dance can have on one's spirit, health, household, church, culture, and nation.
Spiritual leaders and ministers will especially be drawn to this book, as it provides sound, biblical teaching on the call and authenticity of dance as ministry. It positions the Arts to reclaim its rightful place within the local church and the World. This work is the first of its kind and caliber to be written from a culturally diverse, yet Christian perspective.
Students and professors of Christian Arts institutions, seminaries, Bible colleges, and sacred dance ministers will discover a supernatural, unconventional approach to understanding how God uses His creative, artistic Mind to bring about Kingdom purposes. This book can easily be recommended as a required course text in ministerial training on topics related to the various dimensions of worship, Arts, liturgy and inter-cultural ministry.
$20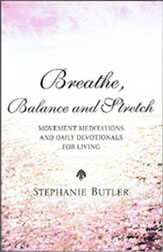 BOOKS BY Rev. Stephanie Butler Adams:
Breathe, Balance, & Stretch: Movement Meditations and Daily Devotions
In a success-driven, stressful society, many Believers have turned to the practice of Yoga as a means to focus, clam, and revive their spirits. Yet some have opened themselves to a world of Eastern religious rituals, and New Age concepts, which at their foundations, are contrary to the Scriptural confessions of Christianity. There must be alternative options presented in a non-confrontational, healthy, and spiritually edifying light–thus, Breathe, Balance and Stretch: Movement Meditations and Daily Devotions for Living.
This book will help you understand the power of Biblical Meditation. Your personal relationship with the Lord will be strengthened through practical, tangible guides that may be applied to everyday life—The result: a spiritually vibrant, fitness and meditative experience!
Following up her first book, My Body is the Temple, Stephanie further challenges readers to become balanced, transparent servants with character that endures in high times and wilderness seasons, for the sake of their own spiritual empowerment and the progression of Kingdom-purpose.
Breathe, Balance and Stretch is excellent for private and group study. It is biblically sound, informative, and interactive. You are invited to discover a unique dimension of communion with God that promotes creativity, rejuvenation, repentance, renewed alignment and balance with His Divine will concerning your life.
$16