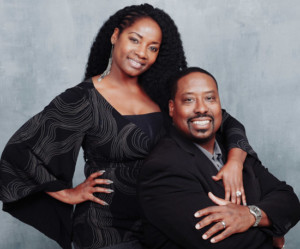 Stephen D. Adams was born and raised in the city he loves– Long Beach, CA. He is a proud graduate of the LBUSD's Lakewood High School and Saddleback College in Mission Viejo, CA. Born to two loving parents—both of whom were deaf; Steve developed a natural compassion and concern for the often disadvantaged Deaf Community.
This concern quickly grew to include all people—regardless of their ethnic background, who found themselves in underserved communities with challenging life struggles. In his professional tenure, Steve has passionately worked for many years in areas of law enforcement, safety/security, health care support, and Emergency Response. Today he serves as Emergency Management, CEM & Facilities Manager for 10 major health care facilities throughout Long Beach. He utilizes his ASL (American Sign Language) skills as a Resident Patient Interpreter for The Children's Clinic Community Health Organization, and he is an active member of the L.A. County Sheriff's Executive Clergy Council. In 2019, Steve was appointed by Long Beach Mayor Robert Garcia as Commissioner on Disabilities for the City of LB.
As Founder and President of the non-profit 501c3 organization, The Long Beach Unity Festival (aka Long Beach Unity) Mr. Adams has been a long-time charity event producer and community advocate. He has more than two decades of experience producing one of Long Beach's signature outdoor events which promotes diversity, the Arts, and healthy lifestyles. Steve works closely with LB City Officials, the LBUSD, concerned citizens, and numerous social agencies to remove barriers of race, religion, and culture in the Greater LB and LA Communities through creative expression in music and the Arts. As a result, he has received numerous awards and commendations at local, state, and congressional levels including: The Human Dignity Award (CCEJ), The Community Partner Award (100 Black Men Inc.), City Council Districts Commendations, and Mayoral Proclamations.
Steve and the LBUF organization are the Co-Producers and fiscal sponsors of the Annual Dancer in Me Sacred Arts & Music Training Institute in partnership with his wife Rev. Stephanie Adams, Spirit of Praise Sacred Artistry International. The event trains more than 500 youth and young adults from around the world in a variety of artistic disciplines.
Steve and Stephanie graduated together from the University of Southern California's Cecil Murray Center – Faith Leaders Institute in 2012, receiving certification in Community and Civic Engagement. Steve is Program Director of the Eagles Basketball & Mentoring Program at Northpointe Residential Community (North LB) in collaboration with COR Community Development Corporation and Avanath Properties.

Stephanie Butler Adams is the Executive Director of The Long Beach Unity Festival, which she manages together with her husband, Steve Adams (President & CEO). She is an ordained Itinerant Elder in the African Methodist Episcopal (AME) Church.
Stephanie holds dual undergraduate degrees in Journalism (B.S.) & Dance (B.A.) from the University of Maryland, and post graduate (M.A.Th.) in Theology from the United Theological College of the West Indies. Prior to her transition from professional dance performance and corporate consulting in Quality Assurance for Fortune 500 companies, to full-time missions ministry 12 years ago, Stephanie sat under the tutelage of some of the best choreographers, dancers, movement analysts, and institutions across the nations including the Martha Graham School of Contemporary Dance (NYC), Alvin Ailey American Dance Theatre (NYC), Kei Ta-kei & Moving Earth (Japan), Improvisations Unlimited (Washington, DC), the Laban Institute of Movement (NYC), and many others.
Rev. Stephanie is the Founding Director of Spirit of Praise Sacred Artistry International, International Director of Liturgical Dance for the AME Church under the directive of the Music & Christian Arts Ministry (MCAM), and creator of The Dancer In Me Sacred Arts & Music Training Institute. In each role, she creates technically sound curriculum models for dance and performing arts. For more than 15 years, her ministry and mission work has been recognized worldwide spanning Africa, Asia, Europe, North and South America, and extensively throughout the Caribbean for her in-depth teaching on choreography, dance theology, Arts-evangelism, liturgical worship, cross-cultural outreach ministry, and the preached Word. Her first book, My Body is the Temple: Encounters and Revelations of Sacred Dance & Artistry published in 2002 is a best seller in the category of Christian Arts. Her second published work is entitled, Breathe, Balance, and STRETCH: Movement Meditations & Daily Devotionals for Living, Xulon Press Publications, July 2006, and her full-color children's book, The Dancer in Me, was published by Xulon Press, 2014.
Stephanie's other major accomplishments and commendations include the 2011 Global Missions Award (International Women's Missionary Society-Florida), Guest Presenter at the United Nations NGO Women's Conference (New York, 2008), and articles.  Stephanie is a lead choreographer and trainer in the implementation of healthy lifestyle initiatives for the Body & Soul Health and Fitness Campaign across the cities of Long Beach and L.A. LBUF's program, "Sky Kids Creative Arts Intensive" has now been implemented in 8 LBUSD elementary schools and on-site at Northpointe Residential Community in collaboration with COR Community Development Corporation.